" And the third angel followed them, saying with a loud voice, If any man worship the beast and his image, and receive his mark in his forehead, or in his hand, The same shall drink of the wine of the wrath of God, which is poured out without mixture into the cup of his indignation; and he shall be tormented with fire and brimstone in the presence of the holy angels, and in the presence of the Lamb: And the smoke of their torment ascendeth up for ever and ever: and they have no rest day nor night, who worship the beast and his image, and whosoever receiveth the mark of his name. Here is the patience of the saints: here are they that keep the commandments of God, and the faith of Jesus."
Revelation 14:9-12
This is a warning for anyone who worships the beast and his image, and receives the mark of his name on their forehead, or in his hand.
Some questions after reading this:
Who is the beast and is his image?
What does it mean to be marked?
What is significant about the hand or forehead?
Who is the beast and his image?
We learned previously that the beast was
"As the churches depart more and more widely from the truth, and ally themselves more closely with the world, the time will come when those who fear and honor God can no longer remain in connection with them."
The Spirit of Prophecy, vol. 4 (4SP 239.3)
"And I heard another voice from heaven, saying, Come out of her, my people, that ye be not partakers of her sins, and that ye receive not of her plagues."
Revelation 18:4
Simply put, anyone who is involved in a false worship is in danger of receiving the mark.
What does it mean to be marked?
The first example of a mark being placed on someone was after Cain killed his brother Abel:
"And the Lord set a mark upon Cain... And Cain went out from the presence of the Lord, and dwelt in the land of Nod, on the east of Eden."
Genesis 4:16
Here we see having a mark is associated with those who by their actions made a decision to separate themselves from God.
What is significant about the hand or forehead?
We learn that our love for God should be a sign on our hand and forehead:
Hear, O Israel: The Lord our God is one Lord: And thou shalt love the Lord thy God with all thine heart, and with all thy soul, and with all thy might. And these words, which I command thee this day, shall be in thine heart: And thou shalt teach them diligently unto thy children, and shalt talk of them when thou sittest in thine house, and when thou walkest by the way, and when thou liest down, and when thou risest up. And thou shalt bind them for a sign upon thine hand, and they shall be as frontlets between thine eyes. And thou shalt write them upon the posts of thy house, and on thy gates. "

Deuteronomy 6:4-9
How do we show our love for God?
"If ye love me, keep my commandments."
John 14:15
We show our love for God by keeping His commandments.
"This is the covenant that I will make with them after those days, saith the Lord, I will put my laws into their hearts, and in their minds will I write them."
Hebrews 10:16
We read the covenant that the Lord will make with us by putting His laws into our minds.
The frontal lobe is located near the front of the head, under the frontal skull bones and near the forehead. As a whole, the frontal lobe is responsible for higher cognitive functions such as memory, emotions, impulse control, problem solving, social interaction, and motor function. "

"Frontal lobe" via Wikipedia
Areas in the brain's frontal lobes are important for making decisions about which choice it is best to take. " "Choice values" via American Psychological Association
Forehead = Thoughts
To be clear, being tempted with a thought is not a sin, even Jesus was tempted, however He never sinned. It comes down to if we indulge the thought and contemplate it, then it is a sin.
If we are considering sinning, it is a sin:
"But I say unto you, That whosoever looketh on a woman to lust after her hath committed adultery with her already in his heart."
Matthew 5:28
The more we contemplate sinning, the greater the propensity or cultivated desire is to sin. If we do not surrender and ask for forgiveness and strength to overcome, this will build into an action.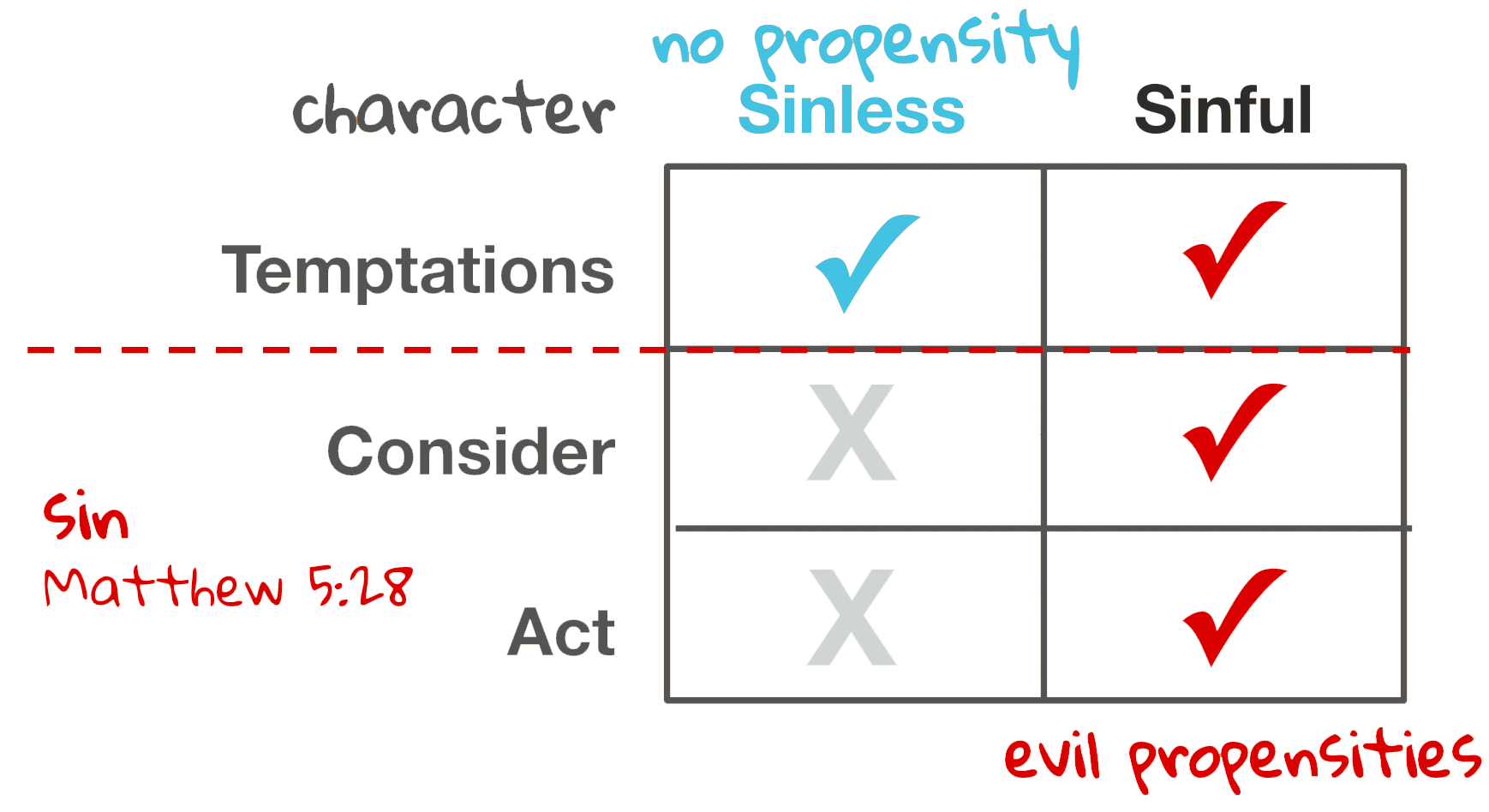 The more we contemplate sinning, the greater the propensity or cultivated desire is to sin. If we do not surrender and ask for forgiveness and strength to overcome, this will build into an action.
An action is represented by our hands... and the choices we make with them.
"Whatsoever thy hand findeth to do, do it with thy might; for there is no work, nor device, nor knowledge, nor wisdom, in the grave, whither thou goest."
Ecclesiastes 9:10
"And it shall be for a sign unto thee upon thine hand, and for a memorial between thine eyes, that the Lord's law may be in thy mouth: for with a strong hand hath the Lord brought thee out of Egypt."
Exodus 13:9
" Blessed is the man that doeth this, and the son of man that layeth hold on it; that keepeth the sabbath from polluting it, and keepeth his hand from doing any evil... For thus saith the Lord unto the eunuchs that keep my sabbaths, and choose the things that please me, and take hold of my covenant;"
Isaiah 56:2, 4
We see this connection between our hands and what we do, or our actions:
Hand = Actions
So by our thoughts and our actions we are classified.
"...their works are works of iniquity, and the act of violence is in their hands...their thoughts are thoughts of iniquity; wasting and destruction are in their paths."
Isaiah 59:6-7
Mark = Thoughts + Actions
Based on our choices (forehead) and actions (hand) we will either receive a sign or a mark which indicates who we have decided to follow.
"Know ye not, that to whom ye yield yourselves servants to obey, his servants ye are to whom ye obey; whether of sin unto death, or of obedience unto righteousness?"
Romans 6:16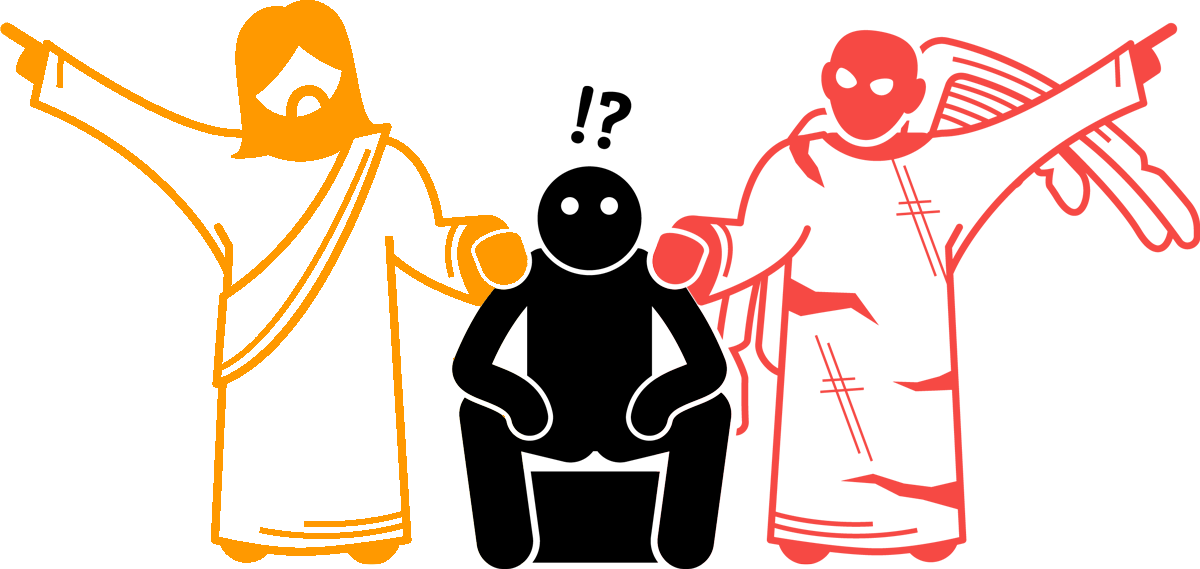 If we keep the commandments of God, we get the Seal of God, if we reject the commandments of God we get branded with the mark of the beast.
"And if it seem evil unto you to serve the Lord, choose you this day whom ye will serve; whether the gods which your fathers served that were on the other side of the flood, or the gods of the Amorites, in whose land ye dwell: but as for me and my house, we will serve the Lord."
Joshua 24:15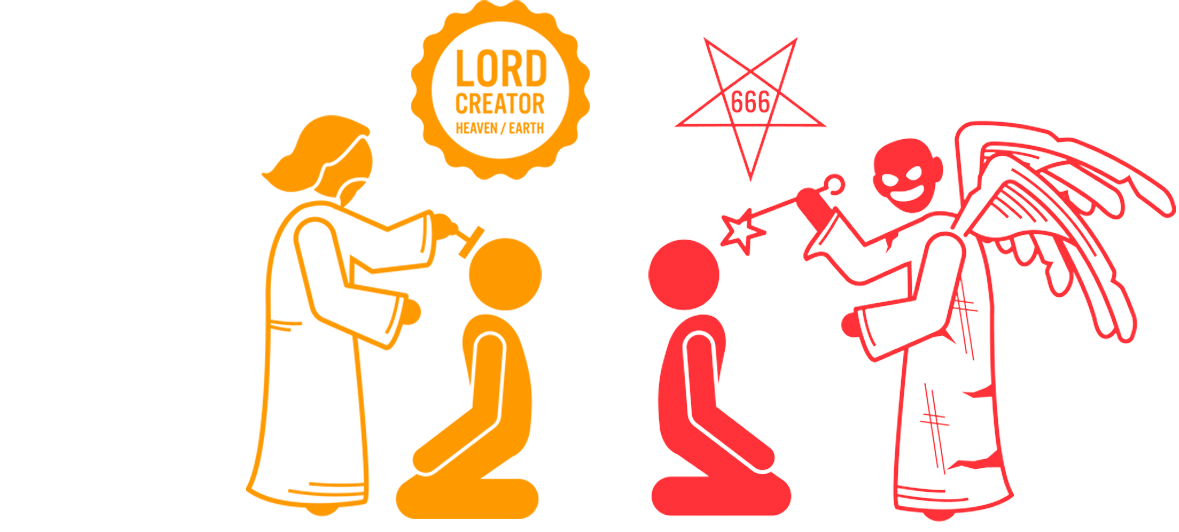 To be clear, the Mark of the Beast is not about vaccines or microchips, it is about choice and worship. We do not need to be thinking about how to avoid the "Mark of the Beast" but instead how to get the "Seal of God":
Let's think through what is a seal? It is a stamp of authenticity, it is a seal which is stamped on a document to symbolize it's authority.
Seal
/siːl/
a piece of wax, lead, or other material with an individual design stamped into it, attached to a document as a guarantee of authenticity. The main seal of a ruler that symbolizes its authority, and with which official documents are stamped.
If we look more into Seals, we see they typically have three items, the name, the title and the territory:

We can look for a verse in the Bible where a name, title and territory are mentioned, we actually find all three in the 4th Commandment, where we are instructed to worship God on the Seventh-Day.
"For in six days the Lord made heaven and earth, the sea, and all that in them is, and rested the seventh day: wherefore the Lord blessed the sabbath day, and hallowed it."
Exodus 20:11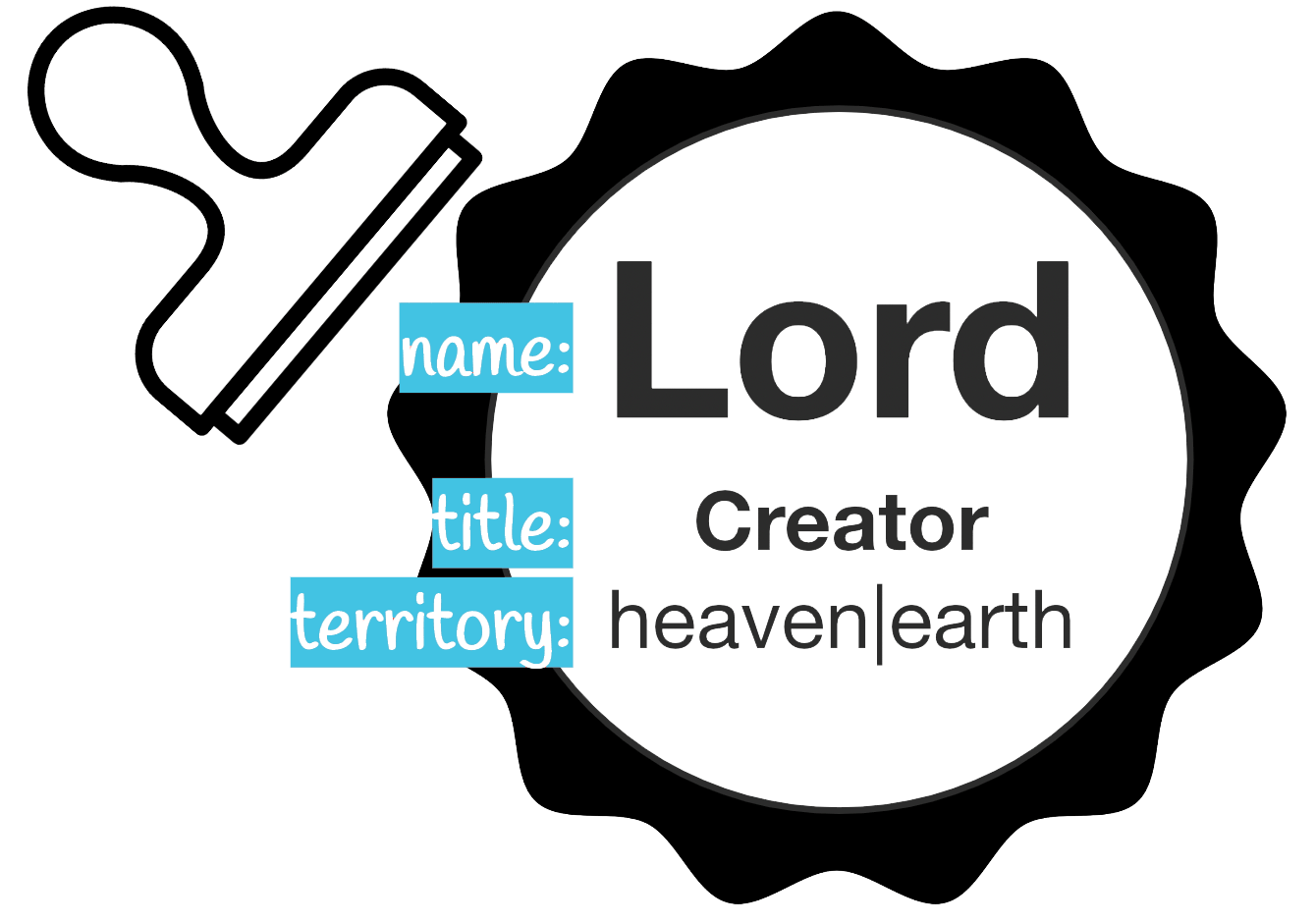 We find that the final test will be over the Sabbath, a sign of who we worship.
"Speak thou also unto the children of Israel, saying, Verily my sabbaths ye shall keep: for it is a sign between me and you throughout your generations; that ye may know that I am the Lord that doth sanctify you.."
Exodus 31:13
"Nevertheless the foundation of God standeth sure, having this seal, The Lord knoweth them that are his. And, let every one that nameth the name of Christ depart from iniquity."
2 Timothy 2:19
To be clear, all ten of the commandments are the sign of our allegiance, we must surrender fully to Christ and accept His gift of righteousness.
"The seal of the living God will be placed upon those only who bear a likeness to Christ in character."
The Review and Herald (RH May 21, 1895, par. 5)
"As the wax takes the impression of the seal, so the soul is to take the impression of the Spirit of God, and retain the moral image of Christ."
The Review and Herald (RH November 1, 1892, par. 4)
"It is obedience to the principles of the commandments of God, that molds the character after the divine similitude."
9LtMs, Ms 87, 1894, par. 4
What does it mean to be "Sealed"?
We learn that the "Seal of God" is a settling into truth by His people.
"...it is not any seal or mark that can be seen, but a settling into the truth, both intellectually and spiritually, so they cannot be moved..."
17LtMs, Ms 173, 1902, par. 25
"And the very God of peace sanctify you wholly; and I pray God your whole spirit and soul and body be preserved blameless unto the coming of our Lord Jesus Christ."
1 Thessalonians 5:23
When does the sealing begin?
God is waiting on us! He is waiting for a people who are intellectually and spiritually convicted of the truth and are demonstrating this with their lives.
"Just as soon as the people of God are sealed in their foreheads... just as soon as God's people are sealed and prepared for the shaking, it will come. Indeed, it has begun already; the judgments of God are now upon the land, to give us warning, that we may know what is coming."
17LtMs, Ms 173, 1902, par. 25
"Saying, hurt not the earth, neither the sea, nor the trees, till we have sealed the servants of our God in their foreheads."
Revelation 7:3
God cannot wait forever, at some point the order will be given:
"He that is unjust, let him be unjust still: and he which is filthy, let him be filthy still: and he that is righteous, let him be righteous still: and he that is holy, let him be holy still."
Revelation 22:11
"When the decree goes forth and the stamp is impressed, their character will remain… for eternity."
Testimonies for the Church (5T 216.1)
We learn that there will be a decree that no man may buy or sell unless they accept the false Sabbath:
"And that no man might buy or sell, save he that had the mark, or the name of the beast, or the number of his name."
Revelation 13:17
"All heaven had united with Jesus, as they heard the fearful words, "It is done. It is finished." The plan of salvation had been accomplished, but few had chosen to accept it. And as mercy's sweet voice died away, fear and horror seized the wicked. With terrible distinctness they heard the words, "Too late! too late!""
Early Writings (EW 281.1)
This is a serious matter! While we should be worshiping God out of love, not fear, it is wise to understand what will happen with those who are not protected by the Seal of God: